Lanzarote is known for its volcanic landscapes, its beaches and its seabed, but also for being one of the best places in the world to catch waves.
The good thing about the island is that it is the perfect place for those surfers who are starting out in this sport, but also for those more experienced who are looking for bigger challenges. Below you have some of the most famous spots depending on your level.
1. Famara
Famara is the most popular place to surf in Lanzarote, and not only because of its magical location, with a golden sand beach of more than six kilometers guarded by the imposing Famara's cliff, but also because it is made for surfers of all levels.
Beginners usually jump into the water at the center of the beach, since it is the safest area due to its sandy bottom. In addition, this is where the different surf schools usually give their classes.
However, more experienced surfers have a wider range of possibilities, such as the Codito spot, which has a sandy bottom with some rocks, and then there is the pier area, whose difficulty lies in its rocky bottom, as well as its complicated access, since you have to jump into the water.
Finally, San Juan could be crowned as the most complicated spot in the area, thanks to its fast waves that break strongly on the rocks. Professional surf championships are held here.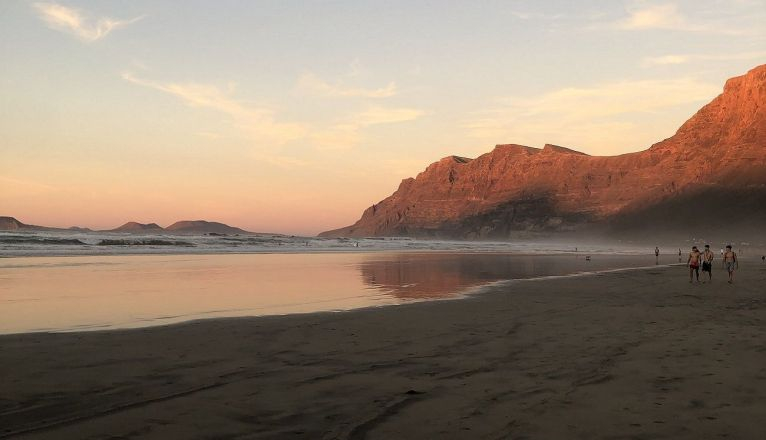 2. La Santa
In La Santa, a fishing village with strong waves and rocks to the south of Famara, there are also several spots for surfing almost every day of the year, although it is only suitable for the most expert athletes.
Specifically, its left waves are among the most sought-after waves by surfers from all over the world because they are short waves that end up breaking on both sides, all on top of a volcanic reef.
On the other hand, if you are looking for a more constant wave and you are a professional surfer, the perfect one is the right wave at La Santa, although the most visited wave is El Quemao, with hollow and very strong tubes that open on both sides. One of the most famous championships in the world is held here.
Finally, for those who have an intermediate level and want to venture into this area, they also have the option of launching through the center, with longer and easier waves that will allow you to practice many movements.
3. La Garita
In Arrieta, northeast of Lanzarote, there is also a good wave, more within the reach of any tourist or beginner, specifically on La Garita beach.
This beach of dark sand and crystal clear water has a fast right that leaves from the central area and another one that leaves from right to left from under the bridge. It is a good place to learn how to surf.
4. La Graciosa
On the island of La Graciosa, to the north of Lanzarote, there are also some good spots for surfing, although it is important to mention that they are not recommended for beginners, due to the characteristics of the waves. There is also no surf school that can help you learn the sport here.
One of the most accessible spots is at La Francesa beach, where there is a long right wave, with off-shore wind blowing. You can also try surfing at Montaña Amarilla, in the southwest of the island, with a fast left. However, there's not always a guarantee of waves. In any case, it's a good place to spend the day.