One of the biggest questions that arise when traveling is where to book accommodation, since it will not only influence your experience and itinerary management, but also your budget.
One of the advantages of Lanzarote is that it offers a wide range of possibilities when choosing where to spend the night, with apartments and hotels very focused on tourism, houses and villas isolated from the hustle and bustle of the city, as well as locations for athletes.
It also has a price range for all pockets, so sometimes it can be difficult to choose one place or another. Below you have the best areas to stay based on your preferences.
Puerto del Carmen and Costa Teguise, the most touristic areas
If you are looking for the comfort offered by a hotel or an apartment complex with a swimming pool and all-inclusive, you should then stay in the tourist areas of Puerto del Carmen and Costa Teguise.
Both places are located in quite central municipalities in Lanzarote, so journeys by car to visit places of interest will be much shorter, a maximum of 30 or 40 minutes to more remote areas such as Órzola or Timanfaya, and they are only 10 minutes away from the airport.
Puerto del Carmen is the jewel in the crown of Lanzarote in terms of tourism, thanks to its wide range of apartment complexes and hotels of all kinds, so there is accommodation for all kind of pockets and preferences, as it is a good place to go with friends and family.
Besides, it has one of the most important shopping centers on the island, the Biosfera Shopping Center. You can also find shops, supermarkets and restaurants on its famous avenue, as well as several pubs and clubs where you can enjoy the nightlife.
On the other hand, Costa Teguise also accomodates a large percentage of tourists who come to Lanzarote, similar to Puerto del Carmen, with many hotels and apartments, as well as perfect beaches to go with the family, but perhaps with less party atmosphere.
In any case, it also stands out for the wide range of sports infrastructure it offers, with activities such as surfing, windsurfing, tennis and even golf.
Playa Blanca, south of Lanzarote
Playa Blanca has the best beaches in Lanzarote, so if you don't mind driving a bit more when you go to discover the north of the island, and want to spend your days in the sun, this southern area is the ideal area to stay.
Like Puerto del Carmen and Costa Teguise, it is very focused on tourists, with a wide range of apartment complexes and hotels of all kinds. In addition, it has a modern marina called Marina Rubicón, where you can not only take walks by the sea, but you can also taste the typical cuisine of the island, including fish and seafood.
With views to Lobos and Fuerteventura islands, Playa Blanca also has many places where you can watch impressive sunsets, such as the Pechiguera Lighthouse, the natural pools of Los Charcones or from the port itself.
Likewise, it should be noted that it is very close to other important tourist spots such as the Timanfaya National Park, the Charco de los Ciclos in El Golfo, Los Hervideros or the Salinas de Janubio.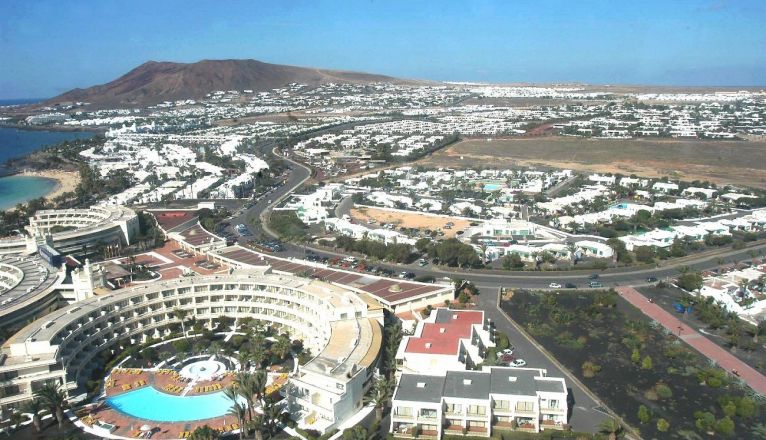 Haría, in search of silence
If, on the other hand, you are looking for a quiet place to stay, away from the hustle and bustle of the most crowded tourist areas, and you prefer the mountains to the beach, your perfect place is the small town of Haría, in the north of Lanzarote.
Being located above Famara's cliff, you will most likely wake up in the morning and enjoy the fog, which along with the silence and the uniqueness of its narrow streets, will give you a mysterious atmosphere, but magical at the same time.
In any case, it is not the perfect location to visit the island for several days, since, as Playa Blanca, it is quite far from many tourist spots and accommodation tends to be scarce and private, so if you choose this area, it is essential that you book in advance.
Haría is also home to the best viewpoints in Lanzarote, such as the Bosquecillo, Mirador del Río, a work by César Manrique, or the Haría viewpoint itself, from where you can see how the little town takes the form of a witch on a broom with its lights at night.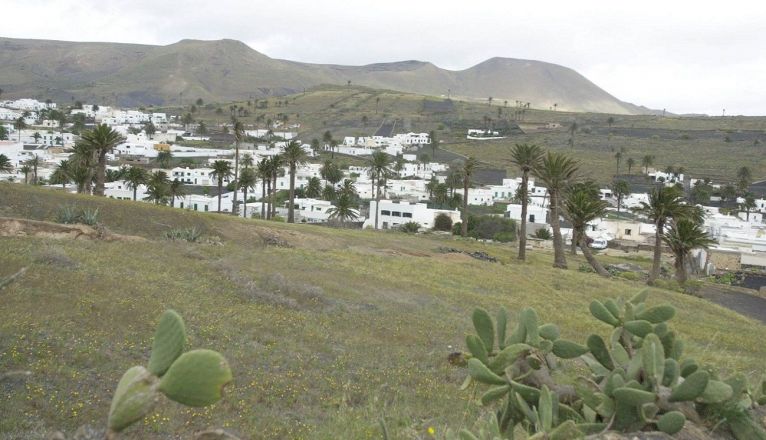 Famara, best option for surfers
For those who love waves and surfing and come to Lanzarote to practice this sport, the most practical accommodation area is, without a doubt, Caleta de Famara.
The town of Famara is known for its famous beach of six kilometers of golden sand, ideal for walking and watching some unforgetable sunsets, with views of Archipielago Chinijo and more specifically the island of La Graciosa, but also for being located under the imposing cliff.
This massive cliff is home to the highest point on the island, the Peñas del Chache, 670 meters high, which turns reddish when the sun goes down.
It is important to mention that the accomodation offer is rather small houses or private apartments and residential bungalows, so if you prefer an "all-inclusive", you will not find it in this small fishing village.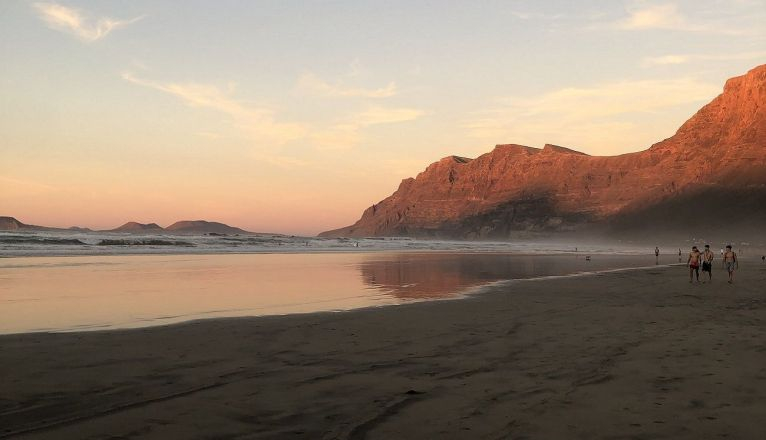 Playa Honda and Arrecife, the most practical options
Finally, if you prefer to stay in a more practical area, located in the center of the island, close to the airport and with more public transport options, then you should opt for Playa Honda or the capital, Arrecife.
Both concentrate beaches, shopping centres, and even more local nightlife, without as much tourist overcrowding as Puerto del Carmen or Costa Teguise.  
In particular, in Playa Honda you will find an offer focused on private tourist apartments, as well as the advantage of having Lanzarote's airport nearby.
Meanwhile, Arrecife, in addition to having numerous apartments, also has several hotels, some of them luxurious, as the Gran Hotel, located in front of the sea.
It is an area where you will find a wider range of prices, without giving up the comfort of being close to the different points of interest of the island.