Lanzarote has countless natural landscapes and plans to offer, so if you want to visit most of them you'll need about four or five days at least.
In any case, if you have enough time to spend a week, you´ll be able to travel from north to south, ending up with a much more complete vision, and you will even have enough time to visit the eighth island, La Graciosa.
Day 1: North
The first day will be focused on a route through the North of Lanzarote, beginning with a visit to two places created by César Manrique, el Jardín de Cactus, a botanical garden with more than 7,000 cacti from all continents, and the Jameos del Agua, a lake inside a volcanic tube, where an endemic species called "the blind crab" lives.
Then, we will cross the road to enter the Cueva de los Verdes, a seven kilometer cave used as a refuge by the islanders during pirate attacks and with a great surprise at the end.
After an intense morning of sightseeing, you can enjoy typical Canarian dishes in the restaurants of Arrieta town. Afterwards, you can go up to the top of Risco de Famara by car to enjoy Mirador del Río, a viewpoint 400 meters high from where you can see the Chinijo Archipelago, a group of islets formed by La Graciosa, Roque del Este, Roque del Oeste, Alegranza and Montaña Clara.
To end the intense day, you can spend the afternoon resting on the beach of El Caletón Blanco, in Órzola, one of the most peculiar locations on the island. It is a beach where white sand mixes with the black of the volcanic rocks and the turquoise blue sea.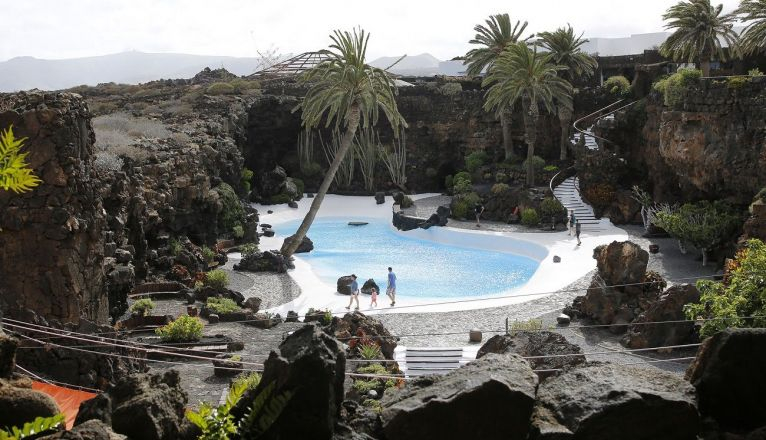 Day 2: South
The second day begins among volcanoes at Timanfaya National Park, where you can enjoy geysers, a route through the Montañas del Fuego by bus, and dishes made with the heat of the land at Restaurante El Diablo, a work by César Manrique.
After the visit, the most practical route is to continue south, towards Playa Blanca, where you will find numerous emblematic places of the island, lots of them look like a movie, such as El Golfo, Los Hervideros or Salinas de Janubio.
After several hours of "tourism", you can finally relax on the beaches and coves of Papagayo, at the southernmost point of the island. If you haven't eaten yet, you can do so at the beach bar at the top of the mountain, where you'll have a panoramic view of the two main beaches. You can also rent a kayak in Papagayo to discover its hidden caves or stay late to watch the sunset.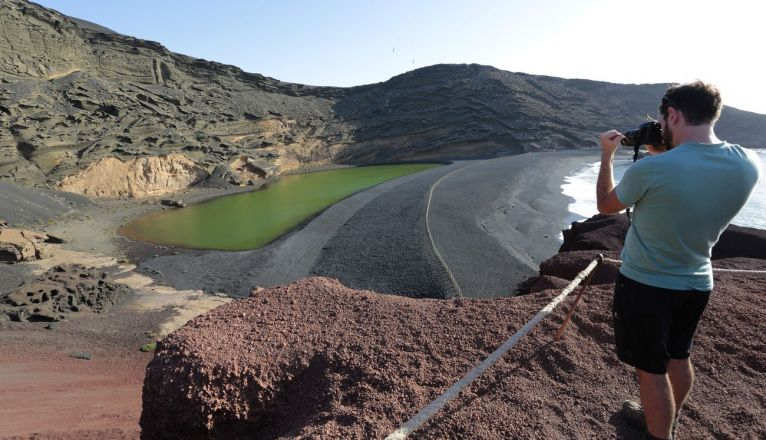 Day 3: Centre
The third day in Lanzarote will begin with a visit to the Casa-Museo al Campesino by César Manrique. Then you will head to Volcán del Cuervo, a perfect place to take a family walk inside a volcano. After the trail, we will go to La Geria to enjoy the typical wine from Lanzarote.
After the appetizer, you can eat the famous wrinkled potatoes with mojo, or other main dishes in one of the teleclubs in the area, and then relax on the popular Playa de Famara, under the imposing cliff.
To close the day, you can visit Lagomar Museum to have dinner there or just a few drinks in its bar-restaurant, embedded in a cave in the town of Nazaret.
Day 4: Volcanoes and natural pools
After a relaxing day, it's time to fill up your batteries to climb a volcano called Caldera Blanca.  It is a route of about five hours where you will go up and surround a crater of more than 1,200 meters in diameter.
After completing the morning of physical exercise, you can go to Yaiza to spend the afternoon enjoying a hidden natural wonder, Los Charcones, a set of natural pools. You can also stay and enjoy a dreamy sunset right there.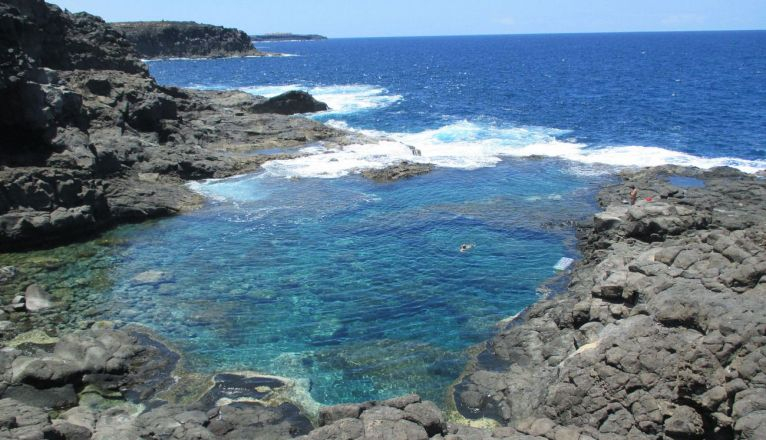 Day 5: La Graciosa
Another option is to spend a day on the island of La Graciosa, the eighth island of the Canary Islands. It is a practically virgin place, without roads, with very few buildings and little more than 700 inhabitants.
It is one of the few places where massive tourism has not yet arrived, making it the perfect spot to spend a day among its "wild" beaches and relax. As it does not have an airport, and  it is separated by a strip of water known as El Río, the only way to get there is by boat from the north of Lanzarote, a journey that barely takes half an hour.
Once on the island you can walk, hire a bike or jeep and head to one of its three most famous beaches, La Francesa, Montaña Amarilla and Las Conchas.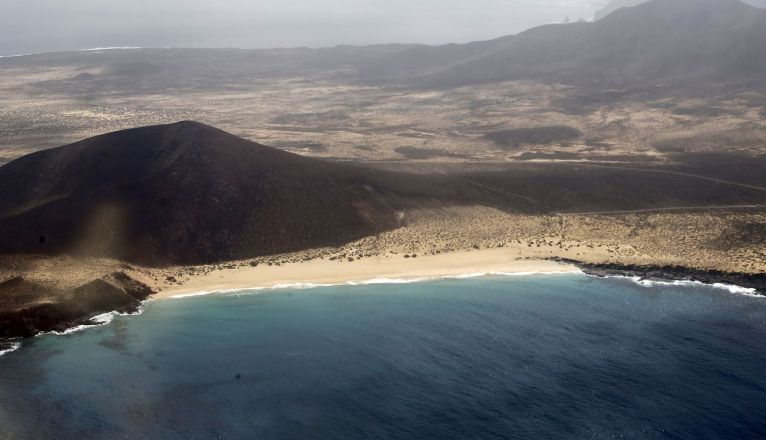 Day 6: Puerto del Carmen and Playa Quemada
After the fatigue of the previous day, you can relax by taking a walk along Puerto del Carmen's avenue, the most touristic area, and buy some souvenirs.
Although you can sunbathe on the beach and eat in the area, there is also the option of going to Playa Quemada and getting typical food there, in one of its beach's front restaurants.
In addition, in Playa Quemada you can enjoy unique black sand beaches, such as La Arena or El Pozo. They are places rarely visited by tourists and even by locals, due to their distance from the town.
Day 7: Arrecife and Playa Honda
On the last day you can take the opportunity to visit the nooks of the capital, Arrecife, starting with a good breakfast at the top of the Gran Hotel. The day will continue with a walk through the center until you reach the famous Castillo de San José, where you can enter and learn more about its history.
After the visit, you can have lunch in one of the Charco de San Ginés's bars, just a 20-minute walk along the coast. With a full stomach, you can go shopping at the Deiland Shopping Center, in Playa Honda, or eat something sweet for dessert in one of its streets that point towards the sea.
As a final touch, you can walk along Playa Honda's Avenue until you reach the end of the airport, right there you will see the planes pass over your head under a movie sunset.