One of the great attractions of Lanzarote is watching its incredible sunsets, either from black sand beaches, from cliffs over 400 meters high, and from the main avenue in Arrecife.
Sunsets will look slightly different depending on the place, with reddish, pink or orange tones, all are equally worth watching. Here are seven places in Lanzarote where you can see amazing sunsets.
1. Montaña Bermeja beach
Located in front of the volcano Montaña Bermeja, and a small natural pool, this black gravel beach has one of the best sunsets on the island and tends to be less frequented by tourists.
Montaña Bermeja beach shows a very different landscape when compared to conventional beaches, with an impressive contrast between the dark colour of the sand, the blue of the sea and the red of the mountain.
To get to it, you have to follow a small path not far from the road and the parking lot, where you can leave your car. It is important to mention that it is not suitable for swimming, due to its strong currents.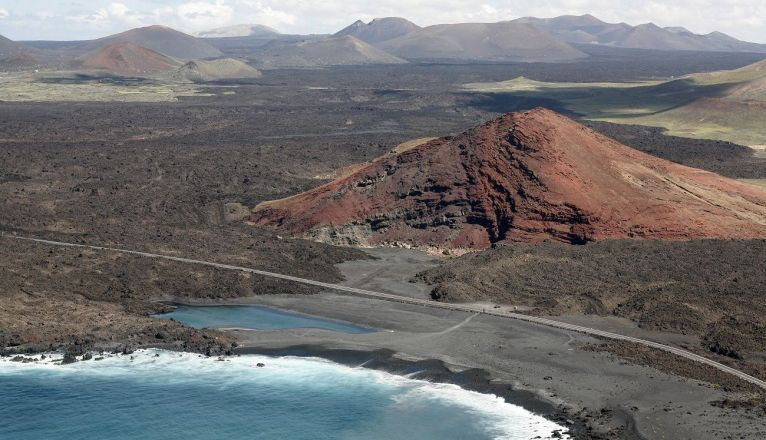 2. Famara's cliff viewpoint
If you prefer to watch sunsets from the heights, you can do it from Mirador del Risco de Famara, at more than 400 meters high.
To get there you have to follow the road that goes to Haría's viewpoint and a few metres before arriving there turn left onto a crossroad. After about 5 minutes of driving you will see a sign that says "Bosquecillo" to the right, ignore it and continue straight.
Then you will arrive at the edge of the Risco, from where you can enjoy a wonderful sunset over Famara's beach, with numerous volcanoes in the background. If it is cloudy, you will enjoy an incomparable picture, since clouds tend to go down and up the cliff, sometimes creating a sea of ​​clouds.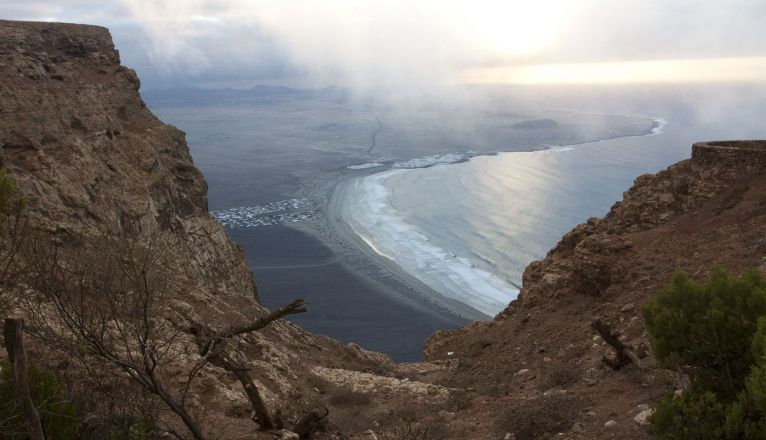 3. Famara beach
Under Famara's cliff there is a beach of the same name, a place frequented by surfers, but also by tourists who go there to enjoy a sunset accompanied by the sound of waves.
Its six kilometers of golden sand make it a perfect beach for long walks while the sun sets on the horizon. Of course, it tends to be a very windy place, so it is essential to watch the weather to not end up covered in sand.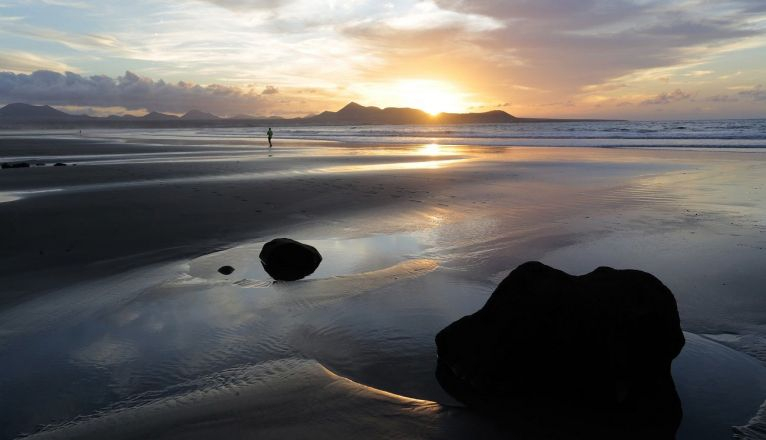 4. Papagayo Beaches
Papagayo beaches are the most famous ones in Lanzarote, thanks to their golden sand, coves and turquoise water, but also for their incredible sunsets.
Located in the south of the island, in Yaiza, these virgin beaches are part of Los Ajaches Natural Park, a protected area. To get there you have to drive along a dirt road full of stones and potholes, so it is advisable to drive slowly during the journey.
Access to Papagayo costs 3 euros, so it would be best if you spend the day at the beach and stay there to watch the sunset. However, if you go around seven or eight in the evening, you won't probably find anyone there to charge you for admission, so you can enter for free to watch the sun going down.
5. Charco de San Ginés
El Charco de San Ginés is the heart of Arrecife's old town, an ideal place to watch the sunset with a beer, since the sky tends to turn pink and orange.
It is a promenade with numerous bars, restaurants and ice cream parlours that becomes particularly lively at night. In the centre, there is a huge pool of seawater, with small fishing boats, a postcard image of the capital.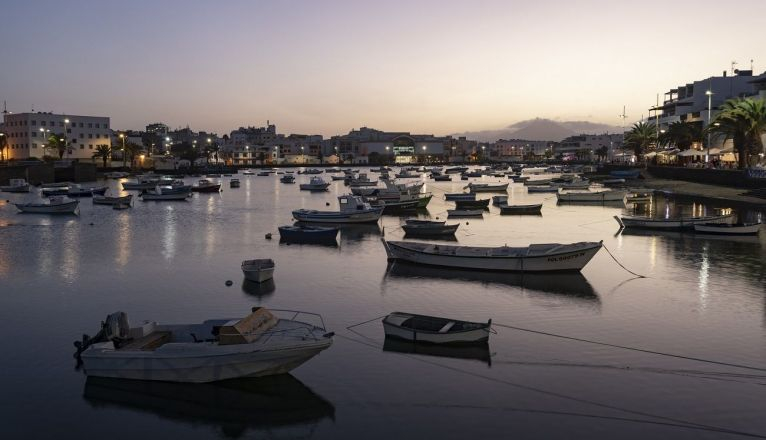 6. Guacimeta Beach
Guacimeta beach, located in front of Avenida de Playa Honda, is known by its kilometres of sand and its calm waters, but also for bordering a unique area, the César Manrique airport in Lanzarote.
Every day, dozens of tourists come to Guacimeta to witness how planes pass just 100 meters above their heads while taking a photo to remember. A picture that leaves you speechless at sunset, since the sky usually takes on pink tones that blend with blue.
To get to this area, just follow Playa Honda avenue walking towards the airport. While you wait for an airplane to arrive you can always go for a swim.
7. Gran Hotel in Arrecife
For those who prefer to watch a sunset from above, but with a coffee or a soft drink in hand, and without being cold, they can do it from the Gran Hotel in Arrecife.
The restaurant and cafeteria, located on one of the top floors of the building, offer wonderful views of Reducto beach, which are even better at sunset, since in that area the sky tends to turn orange.